Boomerang Photo Booth's are becoming the hottest photo op in the event and activation industry. Want laugh out loud fun for your next event or brand activation a boomerang is just the ticket.
Get your brand, photo, dog, cat, kids, grandkids photo on your cell phone.
We take a 5 second video and convert it into a 40 page Flipbook. We bring props and signs to make it more fun and can custom design the cover to your event.
Our overhead photo booth is a new trend that is starting to become more and more popular. Guests love it cause it's something they have never seen before.
In this completely new concept of a "photo booth" the light is the paintbrush, the studio is the canvas and your guests become the center of a truly unique work of art!
Our photo mosaic studio tells the story of your event. We can start with photo provided and taken at the event or from social media. It is so much fun watching the story build throughout the event and then be completed at the end!
Want a photo booth that creates a little more interaction with your guests? Our Roaming Photo Booth takes the photo booth to them.
Who doesn't love cookies? Now picture your custom design, yourself, or brand on a delicious cookie.
Our Photo ID Printer is a unique opportunity for your guests to take home a custom made ID within seconds. We can also make these images into bag tags or luggage tags.
Our Photo Booth is a state of the art kiosk that is perfect for the social media enthusiast.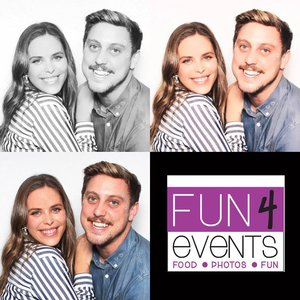 Add on more FUN to your photo booth:
Jumbo Photo Strips, Hollywood Filter, Andy Warhol Filter, Black and White, and many more.
photo booth
Every party or event needs a photo booth. We have a variety of options for photo booths
Color Spot Photos
Take your standard photo from a photo booth, select a color or two and have those colors stand out. The rest of the photo is black and white.
Photo Morphing
Morph into a celebrity, another guest or an animal.
Camera Array
The bullet time or matrix effect.
Photo Phone Holder
Who doesn't need something to hold your phone? We can put photos or logon on our photo phone holders.
Green Screen
We can take photos of your guests and put them in front on any background. We can also do immersive green screen, putting guests into cars, on a high wire over the grand canyon…
Animated GIF
We can take 3 to 4 photos and animated them into a GIF. We can also animate logos and messages .
Photo Buttons
Get you photo on a button. The best way to embarrass your kids. Where a button with their photo.
Inflatable Snow Globe
The best holiday photo activation around. Life size inflatable snow globe to take your photo or boomerang in.
360 Slo Mo
Taking the slo mo experience to the next level. The camera circles around the guest to create an amazing 360 degree slow motion video
Photo Snow Globes
Get your photo in a real snow globe. Photo on the front and branding on the back. A great takeaway.